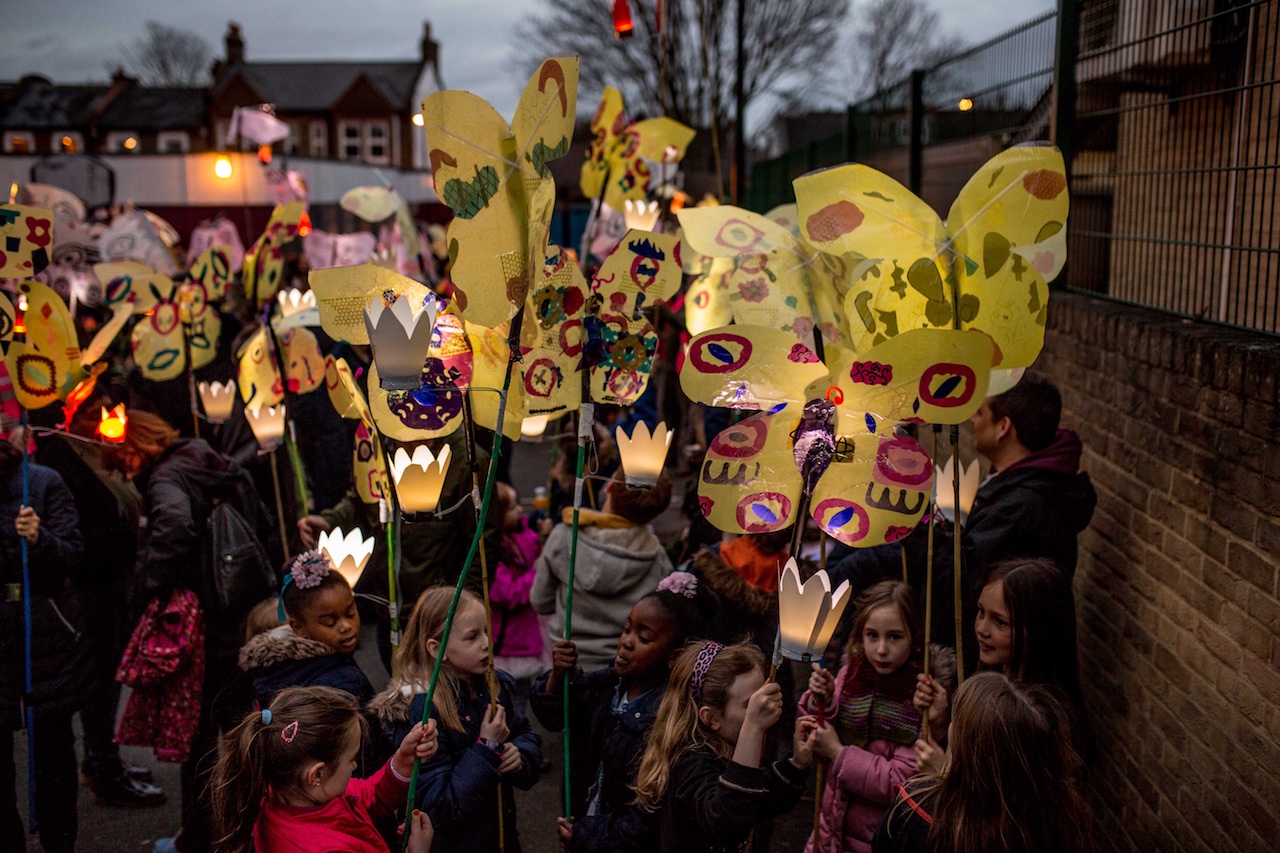 Spring Rising Artists Commissions
The story
Our story starts with the frozen, but fertile, earth - made up of many layers built-up over time from the remnants of past life, each contributing to a rich soil. A seed is brought from a distant land, borne by the wind it lands on this frozen ground. Thawed by the rain and sun, slowly the ground softens and the seed opens. Tentatively, new life is nurtured and new growth springs forth. Fed by the rich layers of the soil, the seed thrives and grows into an exotic plant, bearing colourful flowers and succulent fruits that feed many creatures. As Winter approaches, the plant dies and itself becomes part of the soil, completing the cycle.
Description of the project
Output Arts and Emergency Exit Arts have been commissioned by Southwark Council to create Spring Rising in March 2018, to follow on from our successful 2017 event Spring Waking. For this we will be creating:
a procession of vibrant illuminated flowers carried through local streets;
a finale outdoor performance in Goose Green with a poem created by Sophia Walker and community groups from across East Dulwich, set to music and combined with a film;
an interactive illuminated garden with commissioned installations incorporating light and sound.
Description of the commissions
Output Arts are commissioning two artworks from artists for the garden that reflect the themes arising from the story, one for £1000 and one for £750. We are open to artists adapting and showing existing work and appreciate that the commission fee lends itself to this. The artworks should have an interactive element, or allow the audience to linger and explore or contemplate the themes arising from the poem.
Preference will be given to artists who live or work locally to the Dulwich area. Emerging artists are encouraged to apply or artists who would like to take work outdoors for the first time. Some support will be given to commissioned artists by Output Arts and Emergency Exit Arts.
Full brief
For more details and how to apply, please download the brief from here.
Deadline for submissions is: 1pm on Thursday 1 March 2018.