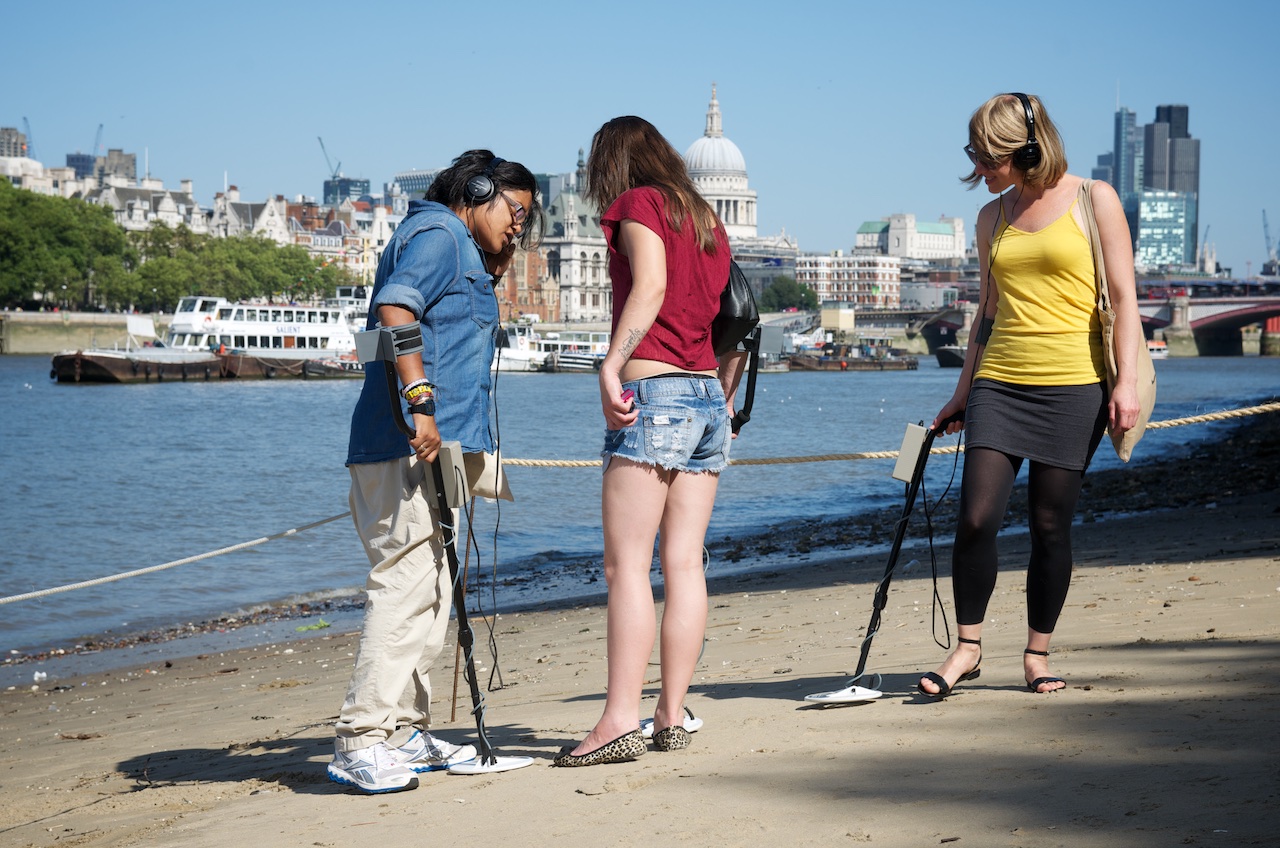 Lost and Sound
Seeing a man with a metal detector on Hastings beach while researching an artwork, Output Arts were struck by the meditative nature of the pursuit: the slow purposeful walk, the gentle sweep of the detector and the intent listening. Excited by the idea of making an artwork based around metal detectors, Output Arts designed and built custom detectors for finding audio.
.In summer 2011, Output Arts worked with a youth club in Folkestone to record members of the local population responding to the broad subject of 'loss.' These responses varied from intensely personal to humorous and unusual: a lost loved one, lost virginity, a lost song.
For 'Lost and Sound on Thames' in 2012, Output Arts worked with The Mayor's Thames Festival to record new audio, obtained through an open call for stories and at an event at Cremorne Riverside youth community centre, to refocus the work on its new location. The artwork was augmented with a programme of foreshore activities by Thames21, a charity that works to improve our rivers, canals, ponds and lakes for people and wildlife.
Output Arts are very grateful to staff and young people at The Shed youth club in Folkestone for their hard work aiding us in collecting audio, the Folkestone and Channel Rotary Clubs, and Cremorne Riverside for lending their time and voices to this project. We are also grateful to C-Scope International for kindly donating the metal detector parts and to Shepway Council, Bognor Regis Town Council, Cromer and Sheringham Arts Festival, and the Mayor's Thames Festival for their support.
An amazing sensory experience – so pleased I could give the children an opportunity to experience such a thing.
The memories of what people had lost were great, because they really showed their feelings. It was a lovely idea to have at the festival. Thanks!
This was amazing. Saw it on the website and came out specially to find it. Very thought-provoking.
Something delightful on the foreshore! Secrets hidden in the sand; deckchairs; the lapping of the waves!
A very interesting installation. I and my daughter really liked the idea of physically interacting with the stories.
---
August 21, 2011
Beside the Seaside
Bognor Regis Seafront, The Esplanade, Bognor Regis PO21
August 26, 2011 – August 29, 2011
Folkestone Triennial Fringe
Sunny Sands Beach, 1 The Stade, Folkestone CT19
October 24, 2011 – October 28, 2011
COAST – Cromer and Sheringham Area Arts Festival
West Runton Beach, Water Lane, Runton, Cromer, NR27
September 8, 2012 – September 9, 2012
The Mayor's Thames Festival
Thames foreshore by the National Theatre, London