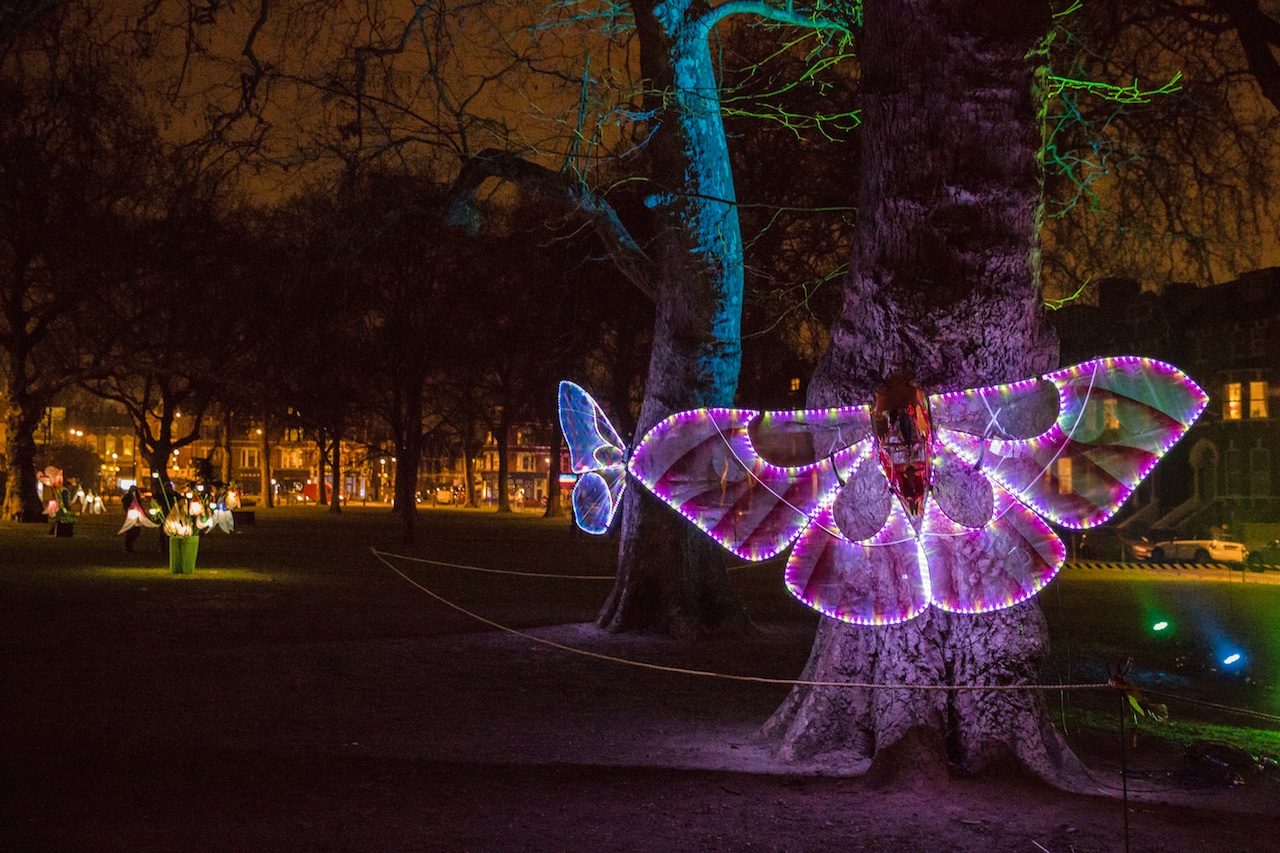 Spring Rising
Our story starts with winter and the frozen earth made of many fertile layers built-up over time. A seed is borne by the wind from a distant land. It lands on the ground and starts to take root in the slowly melting earth. Spring rises and new life is nurtured.
Following on from 2017's successful Spring Waking spectacular, Spring Rising continued our exploration of change and celebrated the growth and transformation of a community through the creation of a collaborative poem and illuminated visual artworks.
This free event for East Dulwich was commissioned by Southwark Presents, created and produced by Emergency Exit Arts and Output Arts, with support from Arts Council England. It included new commissions by Jessica Dickinson, Thor McIntyre-Burnie, Cristina Ottonello, Ben Raine, Emily Tracey and Sophia Walker.
The event featured a glowing community procession with hundreds of people from across the community carrying flowers made in workshops, accompanied by a live Samba band. It ended at Goose Green, which was transformed into a magical, immersive, illuminated garden featuring the work of our brilliant associate artists, who explored the themes of growth and change with different generations, including established and new residents in the East Dulwich area.
The video above was made by Output Arts to accompany the central commission: a poem written by Sophia Walker working with local community groups. Our thanks to St John's and St Clement's Primary School year 5, Link Age Southwark, Albrighton Community Centre's youth club and Southwark Adult Learning's ESOL class for hosting us and contributing their words and ideas to the poem and their faces to the video.
We also created a new light cube installation, Pop!, for the event and showed our interactive drawing piece, Sand.
Video credits: words by Sophia Walker and members of the East Dulwich community; music by Ben Raine; additional video footage by Emily Taylor of brothersister.
Emergency Exit Arts: Artistic Director: Deb Mullins; Event Producer: Kathryn Bilyard; Production Manager: Ben Raine; procession artists: Di Jones, Georgina Mackley, Cristina Ottonello; lighting designers: Craig West, Ben Moon; illuminated Dancers: Marcina Arnold, Maria Scialdoni; pyrotechnics: Frank Earle-Whiffen; event crew: Gordon Allum, Liam Cahill, Emma Corck, Emma Garofalo, Asher Heigham, Billy Mullins, Sam Noble, Matt Stroyde, Kenji Takahashi and Chalkie White.
Additional event credits: drumming by South London Samba; enchanted flower globe by The Show Globe; performance by EEA Street Theatre Squad; event photography by Rosie Reed Gold; event filming and video editing by brothersister; publicity art design by Kathryn Corlett. Thanks also to: Belham, Harris Academy and Heber primary schools; Southwark Woodcraft Folk; and Friends of Goose Green.