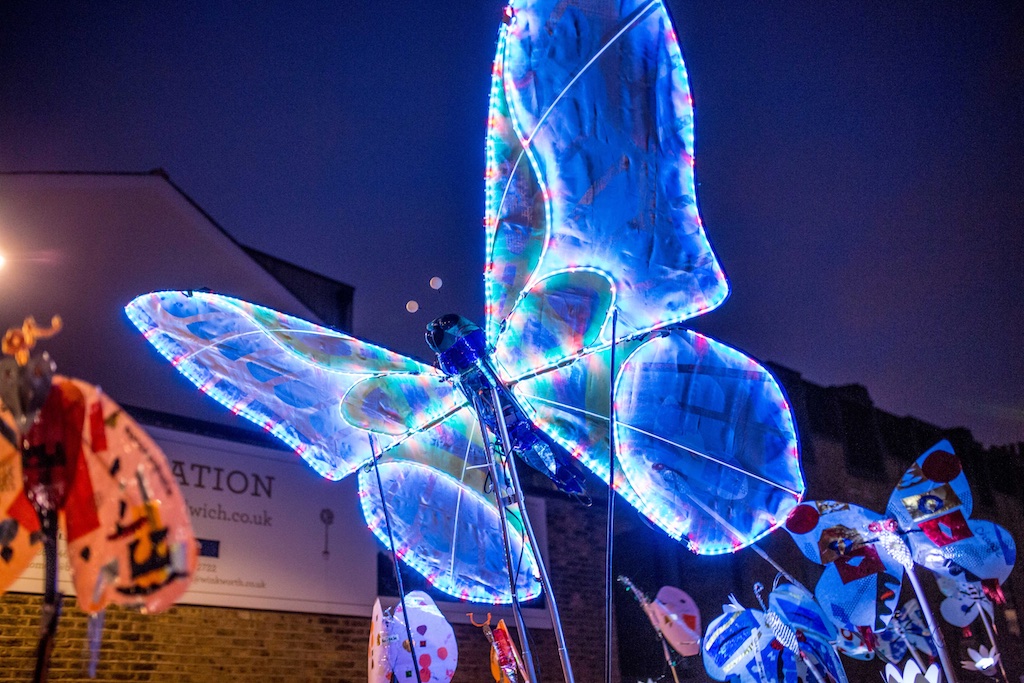 Spring Waking
As winter turns into spring and darkness turns into light, we celebrate a time of change and transformation: the Spring Equinox.
Spring Waking, commissioned by Southwark Presents, was a dazzling event for East Dulwich co-produced by Output Arts and Emergency Exit Arts with support from Arts Council England.
Spring Waking featured a community light procession led by a giant illuminated butterfly and moth and a fantastic light-filled finale show with a specially composed song cycle from singer and musician Bishi.
The project included 14 workshops in primary schools across the area and 3 open community workshops making butterflies and moths for the parade, and learning carnival drumming and dancing.
You can read more about Spring Waking on our blog.
Additional credits: music by Neil Kaczor and Bishi, used under license from Gryphon Records; words to Ostara My Eye by Bishi, A Light Exists in Spring by Emily Dickinson, The Sensitive Plant by Percy Bysshe Shelley; Bishi's dress by Alex Noble, hair by Mark Daniel Bailey and makeup by Evan Huang; drumming by South London Samba; event photography by Jack Pasco; event filming and video editing by brothersister.